A Review Of Peppa Pig World at Paultons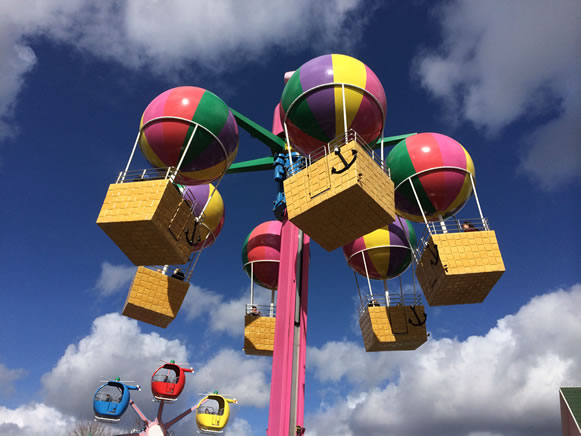 Any family with young children will be familiar with Peppa Pig and friends. Vastly popular, this British children's television series has spread across the world, much to the delight of the children viewing. Since its first broadcast in 2004, Peppa Pig and friends have gained a vast following, with DVD sales, phone app and Peppa Pig club being joined by Peppa Pig World in the New Forest, UK; a theme park devoted to Peppa and friends.
Paulton's Theme Park, located near to Southampton on the south coast of England, is home to the first Peppa Pig themed park in the world. While Paulton's itself has over large number and variety of rides available to visitors, Peppa Pig World is just a small portion of those, albeit perhaps the most popular.
Set in seven acres of land, Peppa Pig World invites visitors to experience Peppa's world with seven theme park rides aimed at younger children. Toddlers are able to go on rides by themselves, with parents able to remain close in case they're needed. However, height restrictions do apply on some rides, rather than age so if you have a small child, expect possible disappointment. George's Spaceship Indoor Playzone offers covered fun in case of bad weather, and has slides, climbing frames, ball play and musical instruments on offer to entertain.
Seasonal activities are also included thanks to the Muddy Puddle's Water Splash Park, an outdoor splash park that requires your children to bring swimming costumes. Only available during warmer months, if this is going to be make or break for your child it's worth checking it's open before visiting. Mr Potato's Outdoor Adventure Playground has swings, slides and jumps available, but is outdoors and so weather dependant. Many areas of the park are buggy restricted, so may not be accessible if newborns in prams are part of the group.
Children can meet Peppa and George Pig at set times
However numbers can mean that children may not be able to get close enough to the characters to see or talk to either of them. Queues can also be long, especially during summer months, as families flock to the theme park during the school holidays. With the rest of Paulton's on offer, it's prudent to visit other areas of the park in the morning and head to Peppa Pig World after lunch as most visitors go straight to the main attraction.
Speaking of Paulton's, with the majority of the entire theme park included in the entry price, it's well worth checking out the other areas regardless. There are a multitude of rides aimed at children of all ages, from roller coasters to log flumes to tractor treks. With a 4D cinema also on offer, there's plenty to keep the family busy. New in 2014 is the Robin Hood 4D film, a 90 minute whirlwind following Maid Marion as she meets Robin Hood. The film is 3D with physical effects in cinema creating the fourth dimension.
Also new to 2014 is the Double-Decker Victorian Carousel, a beautiful traditional carousel set in period-themed gardens. There are plenty of green spaces to wander, with a series of lakes and gardens covering a variety of themes, including the African themed Jungle Falls Garden. There's also a host of birds and animals for your children to visit, including penguins and meerkats. Feeding sessions allow kids to see the animals with live commentary from one of the keepers.
With a variety of events and shows, water parks, themed areas, rides and attractions, Paulton's Theme Park is a great place to visit with the family. The parks are well maintained and clean, with flower beds growing alongside rides. Baby changing areas and toilets are in abundance, with child seats on every toilet. With the majority of rides, including bouncy castles, trampolines and kiddy-car rides available at no extra cost, Paulton's can be a cost-effective break away. Book online for cheaper deals. Car parks are gravel, and open to the public before the park is, which is great for those that prefer to arrive early to avoid potential queues.
There's plenty of places to sit and eat, although purchasing food from the park can be expensive and not the best quality. Those on a budget should consider packing a lunch to help reduce costs. Peppa Pig World, the main attraction, is spacious, clean and contains play areas for children of all ages. Theming is spot-on, looking exactly like the television series your children know and love, and there are lots of characters dotted around for them to see.
You may also feel like purchasing some Peppa Pig gifts at the merchandise store in Peppa Pig World. We certainly did anyway and came away with a cute little George soft toy for our daughter who cuddled it around the park from that point onwards.
Friendly staff, plenty to do and see, few additional costs after entry is purchased; Paulton's Theme Park and Peppa Pig World are a great day out for the family, even when on a budget. Kids under 1m tall are admitted free! Check out the new Big Toy Shop, opened Easter 2014, a giant themed toy store filled with toys, gifts and surprises. Located on the edge of the stunning New Forest National Park, make a break of it and enjoy some time away whether it's to celebrate a birthday or just a chance to go out and have fun as a family.
Share this
Discuss on Facebook