Childrens Fancy Dress Themes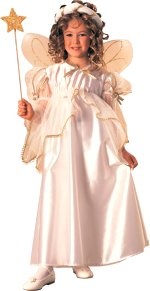 Children's parties seem to become much more extravagant events year after year. At toddler birthday parties, the children are content with jelly and ice-cream, fairy cakes, and pass the parcel! As the become school children, those last years of nursery and at least reception class, its all about the soft play area and ball pit. Mum and Dad can chill out with a coffee as the kids go wild for an hour and half, all happily contained in a big safety net (assuming no one falls over!!). However, once children get past year one in school, parties have to be cool. They have to be as good as, or better than, their friends, and they will want a birthday party that is a bit different!
So, what are the weary parents supposed to do, especially bearing in mind costs! Well, a great way to offer your child a 'customised' birthday party, which they can actually feel they have contributed to, is to make their birthday party a fancy dress party. Fancy dress parties for children are a fabulous way to allow your child to pick a theme for the whole day, this means that you can tailor invitations, party decorations, the cake and even the food (making your life a whole lot easier!) the trick however, is to get the theme right. Whilst your little angel may like dressing up as a fairy princess with her younger sibling, they may not want a princess pink party with their friends! And your darling little boy might love to wear his superman pyjamas to bed, but he may want his friends to think he is a more grown up! This is why it is essential to choose the right theme for your fancy dress birthday party.
Popular themes include:
Latest film or movie
High School Musical is very popular, surprisingly with boys as well as girls! This theme will also provide you with the music for your party as well!
Hannah Montana/Miley Cyrus, more popular with girls than boys! Purple seems to be Hannah s colour, so plan your decorations to suit!
Monsters Vs Aliens are big at the moment, but the costumes might be a bit tricky!
Pirates
Ooh Argh, me hearties! All kids love pirates, and most parent can whip a pirate costume up with a few days notice!
Superheroes
Batman, Spider man, Wonder girl, Superman... the wonder pets... lets all save the DAY!
Ben 10/Power Rangers
Themes for the girls!
Disney Princesses/Fairies
Most little girls will have a Disney Princess costume in their wardrobe and a Disney princess party is the perfect excuse to wear it with their friends! Beware fashion faux pas – and try to get the birthday girl something a bit special so her friends do not come in the same costume!
Colour co-ordinated
Its a bit different, but if your little one loves a certain colour, then why not got for it! Beware, inviting boys to a 'pink' party, may not go down so well!
TV Characters/shows
Lazy Town's Sportacus and Stephanie are very popular, so are Dora and Diego (with younger children), Tom and Jerry could inspire a cats and dogs themed party, and the Simpsons appeal to children of all ages!
So, whatever theme you choose, you are sure to be able to find suitable Fancy dress costumes online. Just be sure you make it clear on the invites what is expected of guests, and maybe invest in a spare costume of two, in case a child turns up not in costume, so they do not feel left out.
Share this
Discuss on Facebook