Chocolate Chip Cookies Recipe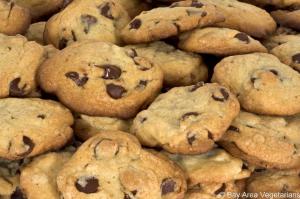 This recipe produces 12 large cookies that would be a fantcastic addition to the party food table.
Ingredients:
100g / 3½oz good dark chocolate
125g / 4½oz unsalted butter
100g / 3½oz granulated sugar
75g / 2½oz soft brown sugar
1 egg
2 teaspoons of vanilla extract
150g / 5¼oz plain flour
½ tsp baking powder
A pinch of salt
Method:
1. Heat the oven to 190C/375F/Gas 5. Line two baking sheets with baking parchment. Chop the chocolate into little chunks and set aside.
2. Heat the butter in a small saucepan very gently until it has just melted. Meanwhile, put the two types of sugar into a mixing bowl. Pour the melted butter on top of the sugars and beat well with a wooden spoon.
3. Add the egg and the vanilla and beat until well blended.
4. Sift the flour, baking powder and salt into the mixing bowl and stir them in, then add the chopped chocolate.
5. Dot heaped pudding spoonfuls of the mixture over the lined baking sheets, leaving plenty of space in between them--they really spread out while baking.
6. Wearing oven gloves, put the baking sheets in the oven and bake for 8-10 minutes, until the cookies are just turning golden brown. (If you have a glass door on your oven, watch the extraordinary transformation as these cookies bake--one moment you've got lumpy brown dough, the next, you have pale golden cookies, their shiny surface a network of cracks.)
7. Leave the cookies on the baking sheets to harden for a couple of minutes, then carefully lift up the baking parchment and transfer them to a wire cooling rack.
8. You can eat these cookies warm, but they are also good cold, and they store well in an airtight tin.
Share this
Discuss on Facebook