Having A Party? Acting The Party?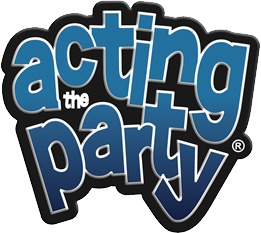 A party without music just isn't a party! But a lot of kid's party music is, quite frankly, a disappointment when it comes to the 6 to 10 year old age range. Many children's music CD's are lame, to the point of embarrassment.

Party music for this age range has to be upbeat and reasonably loud; bordering on the Top 20 charts but still managing to be child friendly – I'm sure you know what I mean. Deciding to choose your own music however is most likely going to cause embarrassment to your child, "Comm'on Dad that music's soo last year - we want modern stuff!"
All well and good, but music, as we all know, can move on so fast, and who really knows what children's taste in music is, or is going to be, in three months time.

We have found that music hasn't got to be childish to be child-friendly. It has, however, got to be easy to dance to and fun, without being cringy.
If you are having a party and want to devote a bit of time to dancing don't expect to just pick out your favourite CD at the last minute and expect children to think "Oh, this is cool" because they won't – and no child is going to want to wait around while you fiddle about saying "er… well ok then, er…how about we try this one?" - it's a sure fire way to stop a party in its tracks.

'Now That's What I Call Music' style CD's are excellent for this age range – and a good way for young children to get into their peer music. However, if you buy one of these it's a must to sort out which tracks are good to dance to and which are not, many of the tracks will be smoochy and not the type you'll be wanting to play at a child's party! Again, children hate having any gaps in the proceedings and will wander if there are pauses to the proceedings, so unless you are Fatboy Slim make a compilation CD or a playlist to have ready.

Plan the style of music you want if you're having a game of musical statues or pass the parcel, make sure the piece you choose doesn't have natural rests or breaks in it. It's also a good idea to have some very raucous dance music standing by for 10 mins after food, this is when they'll have their energy back but yours will be flagging.

On the other hand, Acting the Party® will not only sort out the entertainment and the party games but it also has the right style of music chosen very carefully for this age group. We have tried hard not to be patronising in our choice of music so children feel comfortable getting up and having …excuse my old-fashioned expression… a good old bop!

The Acting the Party audio play, where the children take it in turns to get up and act, has atmospheric music to build confidence. The party games are themed to fit in with the story and the music, like the atmospheric music, is chosen to set the right tone. Plus as we're the one's organising the music we can give a new dimension and a twist to some of the games, such as with our 'reversible' Pass the Parcel, using two contrasting pieces of music denoting different directions.

Acting the Party® comes with character invitations, the Audio Play CD, and game accessories- providing the entertainment, organising the games and sorting out the party music. To look at Acting the Party in action and for further details please go to Acting The Party

We hope, whatever you do, you have a very enjoyable party…. and a great bop!
Share this
Discuss on Facebook