Jungle Animal Fairy Cakes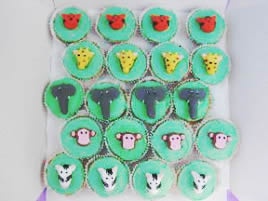 Whilst surfing the internet I found this great post from Trudy of the 'bake me a cake blog':
Individual sponge fairy cakes. These are jungle themed animals (tigers, elephants, giraffes, zebras and monkeys). Sponge cake topped green royal icing. Each animal modelled from coloured sugarpaste with royal iced features.
These cakes can be made as extra cakes for the table or more popular they can be individually wrapped as party bag cakes. Whichever way they are a great favourite with the children. The client ordered these together with the Giraffe jungle cake also found on this site.
I think these would be a great addition to the party food table and really bring some imagination to scrumptious fairy cakes!
Share this
Discuss on Facebook