Kids Party Games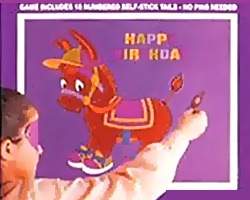 Party Delights have a great range of Pin The Tail games for your childs birthday party. Aside from the original pin the tail on the donkey, you also have the choice of replacing the donkey for a unicorn, clown and princess.Of course, it is not a tail for these other characters as apart from not making any sense to kids it could also be deemed very inappropriate!
As well as 8 pin the tail games on this page, you will also find a Pinata's section. There are many to choose from ranging from giant pink dummies to huge footballs. Most of the pinatas cost from around £10-£15 which is pretty good value. All you need to finish them off is a load of sweeties! Personally I think I would have to go for Maom bars!
Party Delights have loads of ofther great ideas and products so they are well worth checking out if your are holding a kids birthday party. I hope you find their website useful.
Share this
Discuss on Facebook