Personalised Birthday Sash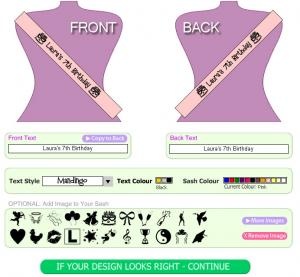 Partybox offer a personalised birthday sash facility on their website which is second to none. Check it out as it will definately be a great addition to your daughters birthday clothing.
The extract below is taken from their website
Experiment with Text, Fonts and Colours - have fun being the designer! Have a different message front and back and even choose images to enhance your theme. Your messages will be repeated once on the front and once on the back of your 1.8m long sash - just like your on-screen preview shows. Each sash comes with a badge to secure the ends, ensuring the best fit for the wearer. Don't wait another day to get it sorted - make your Party Sash order today.
Share this
Discuss on Facebook